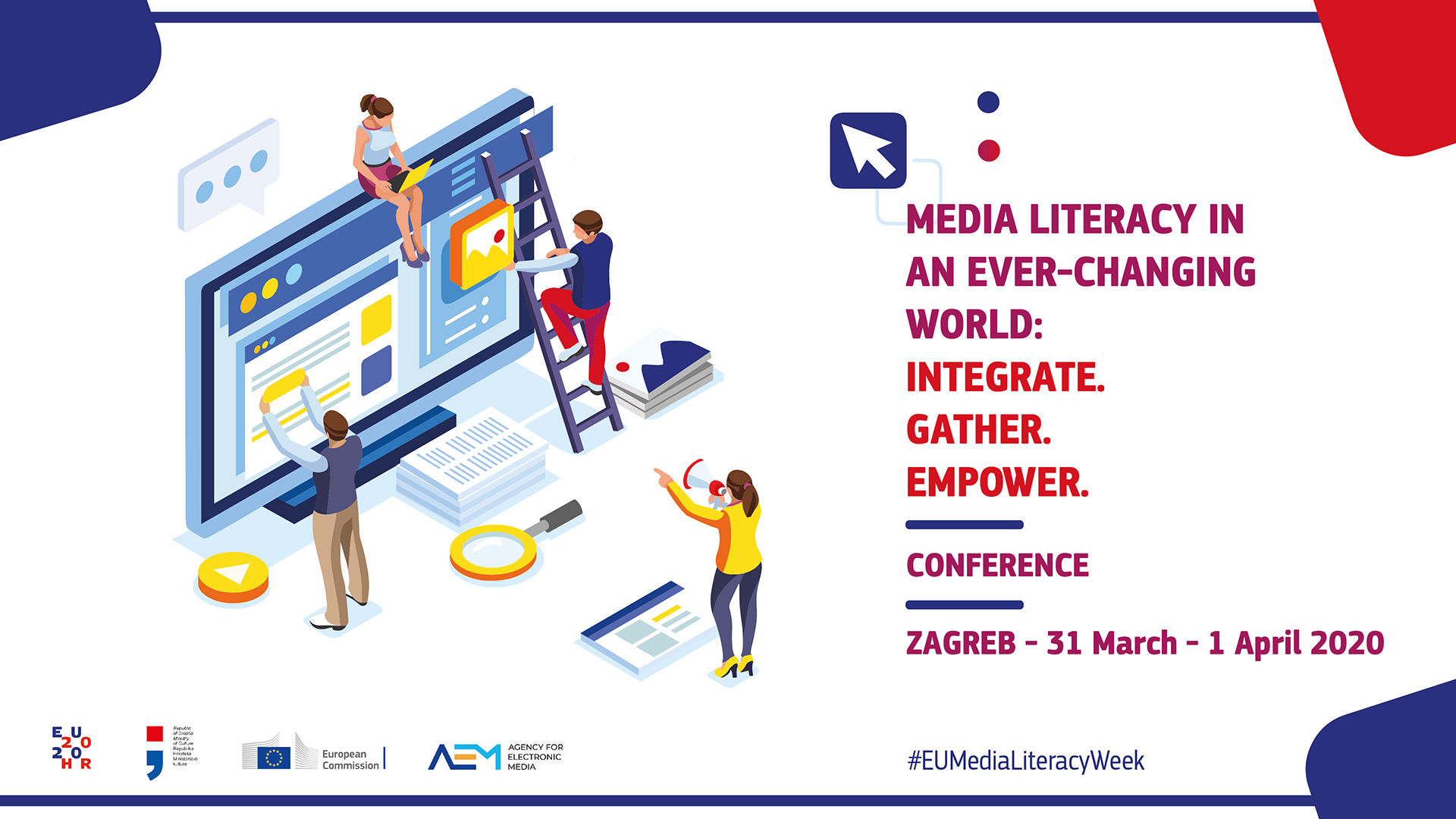 The conference has been postponed due to the outbreak of the coronavirus (COVID-19) in most European countries and public health safety concerns.
The details on the new date as well as all relevant information regarding new developments and the program of the conference will be published in due course.
The Conference titled "Media literacy in an ever-changing world: Integrate. Gather. Empower." will be held in Zagreb (Croatia) from the 31st of March to the 1st of April 2020. It will be jointly organised by the European Commission, the Croatian Ministry of Culture and the Agency for Electronic Media,  and in partnership with Croatian Audiovisual Centre, as a part of the Croatian Presidency of the Council of the European Union.
The conference will include a number of panel discussions, presentations and workshops to celebrate the importance of media literacy and quality journalism and intends to reinforce the existing relationships between media literacy professionals, the media industry, audiovisual regulators and responsible authorities. On the afternoon before the conference the Media Literacy Expert Group will meet and the results of the Pilot Projects "Media Literacy for All" will be presented.
Media literacy in the digital environment is one of the priorities of the Croatian Presidency of the Council of the European Union. It is one of the key competences needed for living and working in a digital and mediatised fast-changing and continually evolving world. Media literacy is a pre-requisite for active citizens participation in both social and democratic processes. Today's digital era presupposes the acquisition of a great deal of new individual and social knowledge and competences that enable the citizens to access, critically evaluate, understand, produce and make responsible use of information, media and communication platforms and technologies. All these capabilities and skills constitute media literacy and equip citizens with ways to protect themselves from disinformation, manipulation and propaganda and their personal data and privacy. The revised Audiovisual Media Services Directive requires Member States to promote and take measures for the development of media literacy skills for citizens of all ages and for all media.
Key topics of the conference
The conference will address the multitude of challenges of living in a digital media environment and the importance of media literacy to promote resilient societies. The conference will be dedicated to highlighting the importance of national media literacy policies or strategies and developing platforms for cooperation and create sustainable ways to fund media literacy projects. Day 2 of the conference will further explore the new global media ecosystem and the importance of fostering quality journalism and the availability to access quality content. In addition, it will also examine the aspects of media regulation aimed at ensuring adequate and non-discriminatory findability for content of general interest and prominence of European works. The impact of AI and algorithms on individuals and the creative industry will also be presented.